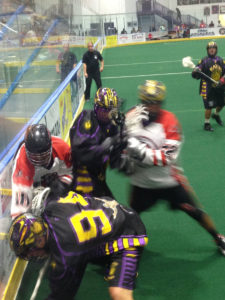 Onondaga Nation – The Onondaga Redhawks went into tonight's match-up with Native Sons as the number one seed.  But it was the visiting Sons who came away with a 14-8 win over the home team.
Things looked promising for the home team as Pierce Abrams tallied two early goals.  The Redhawks knew they were in for game when the visitors answered with two of their own tying the game at 2 apiece.  Cam Simpson broke the tie with a beautiful breakaway man down goal of his own before Native Sons solved Redhawk net minder Edmund Cathers to tie the game at 3 to end the first period.
The second period started like the first, the Redhawks scored two early goals early in the period.  Redhawk Hiana Thompson found the back of the net to extend the lead to 5-3.  Unfortunately that would be the last time the home team would be in control of the game.  The visiting Sons took advantage of every loose ball, fast break and defensive side to turn a two goal deficit into a 5 goal lead.  Coach Brian Phillips switched net minders hoping that that the change would spark the Redhawk offense.  But the solid goal play of the visiting team kept the home team off the board until the third period.
The game ended with the Native Sons responding to any Redhawk tally with two of their own.
The series now moves to Cattaraugus as the Redhawks look to even the series.